Last Updated: April 14, 2020
We Are Hiring!
At SpiriTrust Lutheran® the need for qualified candidates who are caring and compassionate never goes away, even in challenging times like the one presented by coronavirus! We realize that everyone in the communities we serve has been negatively impacted by COVID-19 in some way. We also realize that coronavirus may have financially impacted our family, friends and neighbors through the permanent or temporary loss of a job or reduced hours and income.
If you are no longer employed due to the coronavirus, please visit our Careers Page to learn more about open position in our life plan communities, home care and hospice agency and other program areas. And, please be assured that we are taking the same precautions to prevent the spread of the virus during our hiring process as we are for our current team members and everyone we serve.
Social Distancing Policy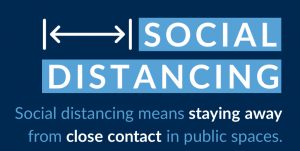 With guidance from the CDC and the PA Department of Health, we have implemented a Social Distancing Policy which will be in effect until further notice with periodic evaluations as new details about the spread of the virus become available. Social distancing is the avoidance of mass gatherings and maintaining a distance of approximately 6 feet from others when possible to help slow the spread of the virus.
The policy stipulates the following:
All gatherings of nine or more people must be rescheduled and smaller meetings may be held, if necessary, and via teleconferencing, when possible.
Meetings directly related to the care of residents, clients and participants may be held.
Onboarding of new team members will continue but group orientations will not be held.
All administrative meetings will be scrutinized for necessity and rescheduled, if possible, or held via teleconferencing.
COVID-19 | Coping with Stress
The outbreak of COVID-19 and the life changes and uncertainty it has caused can be stressful for everyone. In this video, Bob Skelly, PhD, licensed psychologist/executive director, SpiriTrust Lutheran® Counseling Services, provides meaningful ways older adults, children, families and caregivers can cope with the stress and anxiety related to this unprecedented healthcare crisis.
---
Life Plan Community Visitation Restrictions
The health and well-being of those we serve are at the heart of all that we do. As part of our ongoing efforts to protect our residents, who are in a high risk group for contracting coronavirus (COVID-19), we have restricted all visitors to our life plan communities until further notice based on guidance from the Centers for Disease Control (CDC), Centers for Medicare and Medicaid Services (CMS) and the Pennsylvania Department of Health. This restriction applies to our skilled care centers, personal care and assisted living residences, HUD apartment buildings, residential living apartments and cottages and community centers.
In addition, Governor Wolf has asked all Pennsylvanians to restrict movement outside of their homes until April 30 in an effort to control the spread of coronavirus. Both Governor Wolf and President Trump are asking everyone to avoid large gatherings and stay at home. Although some of these changes are regulatory mandates for our community; in all instances the measures we are implementing help insure the safety of all our residents and everyone who plays a role in serving them.
In addition, we have implemented active screening of team members, contractors, vendors and all other individuals deemed essential to the care of those we serve who must enter one of our communities to perform their service.
At SpiriTrust Lutheran® we are committed to caring for the total well-being of those we serve and those that serve. These protocols are necessary to further help prevent the spread of coronavirus both within our programs and services and within the community-at-large.
SpiriTrust Lutheran Programs and Services Operational Status
All of our offices are closed to visitors and we have implemented alternate work arrangements to comply with social distancing recommendations while ensuring that all of our operations continue to be managed as smoothly as possible from remote locations. During normal business hours a team member will be on-site to receive deliveries and answer phone calls at our corporate office, regional home care and hospice offices and LIFE Centers.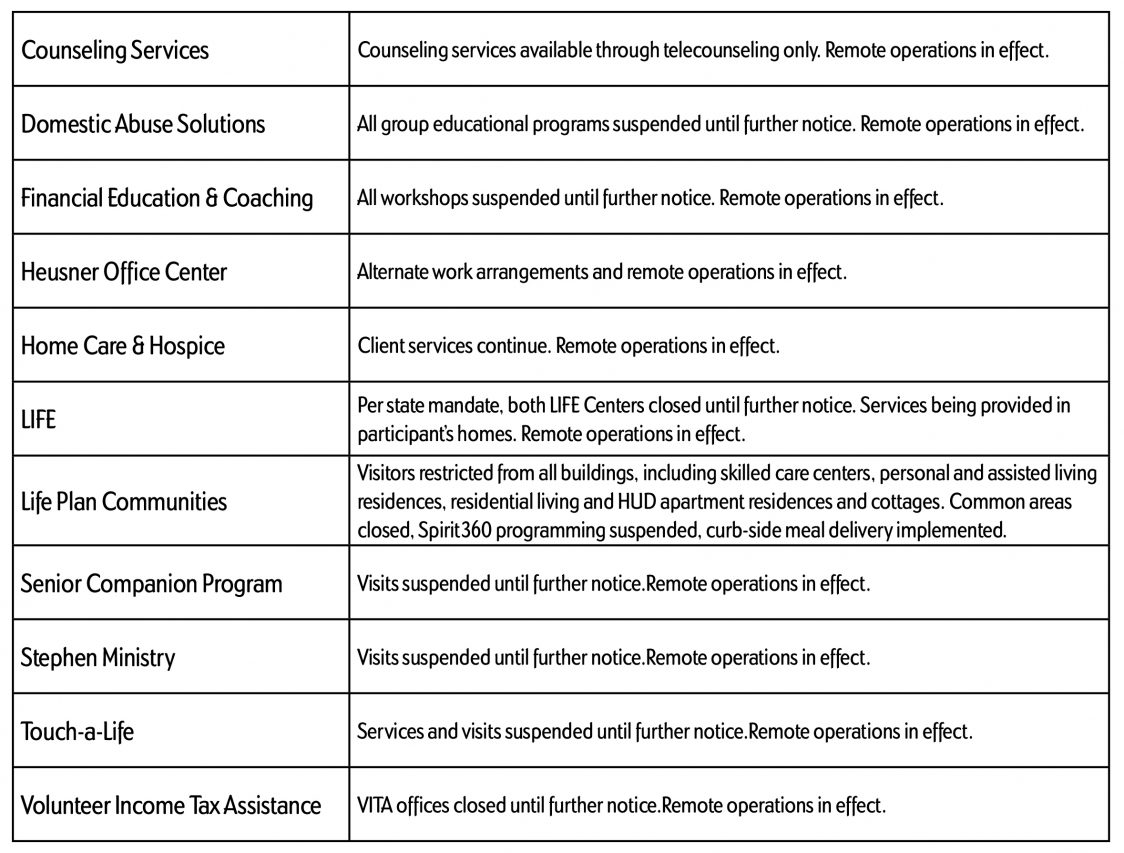 Please take a moment to view a message from Bob Rundle, president/CEO, SpiriTrust Lutheran®, regarding the steps we are taking to prevent the spread of coronavirus (COVID-19).
The following actions have been implemented since this unprecedented health care crisis began:
Restricting visitation on all of our campuses for all levels of care along with residential cottages and apartments.
Screening of all team members and contracted support service personnel at the start and end of their work shifts. This includes taking temperatures of all.
Screening of all vendors and other visitors who enter our campuses.
Remote work capabilities to limit on-campus personnel to those who are essential to the care of our residents.
Increased use of onsite PPE (personal protection equipment).
The closing of common areas, including community centers and dining venues. Residents in personal care, assisted living and skilled care are served their meals in their rooms.
Holding all necessary meetings via teleconferencing with the exception of caregiving meetings which are limited in the number of attendees and require social distancing
Establishment of a Command Center Team which teleconferences at the start of each day
Suspending all move-ins into our residential living cottages and apartments until further notice
Suspending all outside admissions to our personal care and assisted living residences; internal admissions will continue as part of our commitment to providing continuing care
Providing counseling services via phone only.
Suspension of  financial education and counseling  workshops; providing counseling sessions via phone
Suspension of Volunteer Income Tax Assistance (VITA)
Suspension of Domestic Abuse Solutions group meetings; client support being provided via phone
Closing of both LIFE Centers until further notice, per a state mandate; participants are receiving care in their homes
Implementation of temporary PTO policies
Suspension of in-person volunteer assignments
We will continue to post updates here and on our Facebook page, www.facebook.com/SpiriTrustLutheran.
We appreciate your continued cooperation and understanding during this time of uncertainty as we strive to keep our residents, clients, participants, team members and volunteers healthy and virus-free!
More Information and Resources