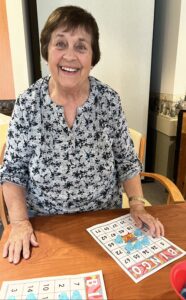 Mary Hiltner, a resident at SpiriTrust Lutheran®, The Village at Utz Terrace, brings a cheerful attitude and warm smile to her monthly volunteer assignments. Having been a resident at The Village at Utz Terrace for 11 years, Mary is familiar with the community and enjoys connecting with residents at the personal care residence and skilled care & rehabilitation center.
For eight years, Mary has volunteered both her time and talents. Typically, she supports the Life Enrichment team by assisting with monthly Bingo in the skilled care center. In addition, she offers a helping hand to the Dining Services department on an as-needed basis. Mary also bakes treats for residents and enjoys delivering her sweet treats.
Mary says she finds joy in making residents laugh and smile. During the holidays, she adorns herself with festive accessories and greets the residents with lively exuberance.
"I volunteer because it is good for the residents and good for myself," says Mary.