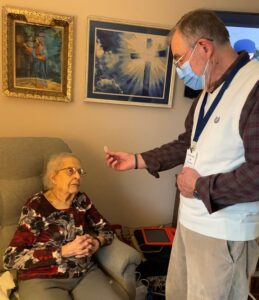 Louis "Buz" Kolleogy, a volunteer at SpiriTrust Lutheran®, The Village at Luther Ridge serves as a worship assistant during Sunday services at the personal care residence and brings Holy Communion to Catholic residents at personal care residence and skilled care center. He also volunteers with Life Enrichment and plays UNO with personal care residents a few times a month.
Buz says he finds volunteering to be a meaningful use of his time.
"Volunteering is an important part of my life. I started volunteering when I moved to this area almost 20 years ago. I volunteered with Upper Adams Meals on Wheels and a ministry at my church. When my wife and I moved to The Village at Luther Ridge, I discovered the many volunteer opportunities here and wanted to get involved where we live," said Buz.